11 février 2023
being the center of my own existence in search of the beauty of my own existence ive lost self gratitude alas for good reason i cant wallow anymore i need ugly progression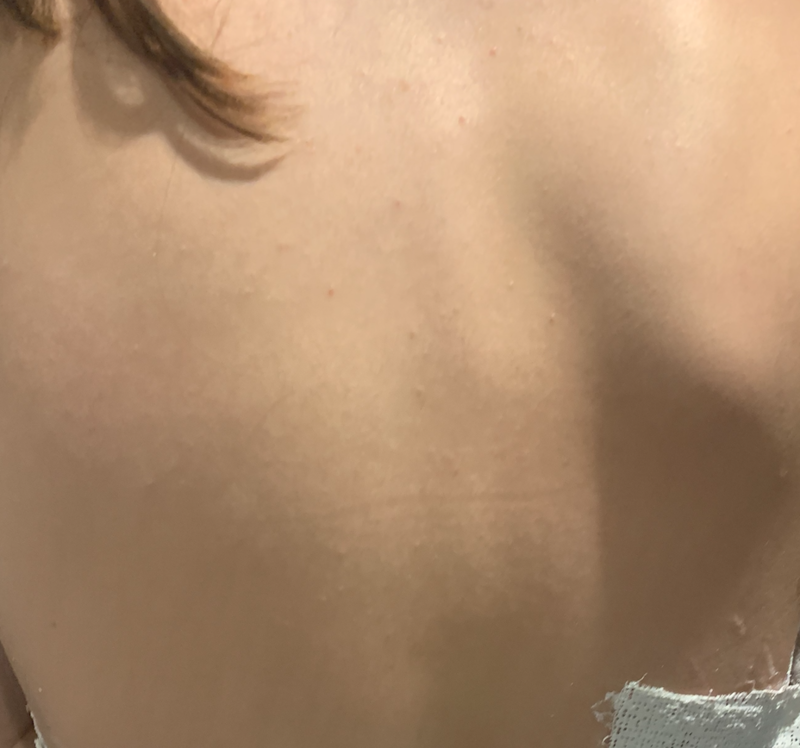 I need to be in church
I need to do something so poetic , I am the human form and embodiment of poetry, i am so poetic my life is a poem
I am my own vessel my face is a story i am a vessel self subsiding i need to create more be less
a being a creature so sensual so sultry
29 janvier 2023
There is a huge disconnect between me and myself as of current, I feel so disconnected from my own sensuality, creativity,
I want to lose myself in what I make and do and I want to do something this is stream of consciousness so no sense but I want to connect the dots between pleasure and art and yeah
i knew this would happen it's the fault of my environment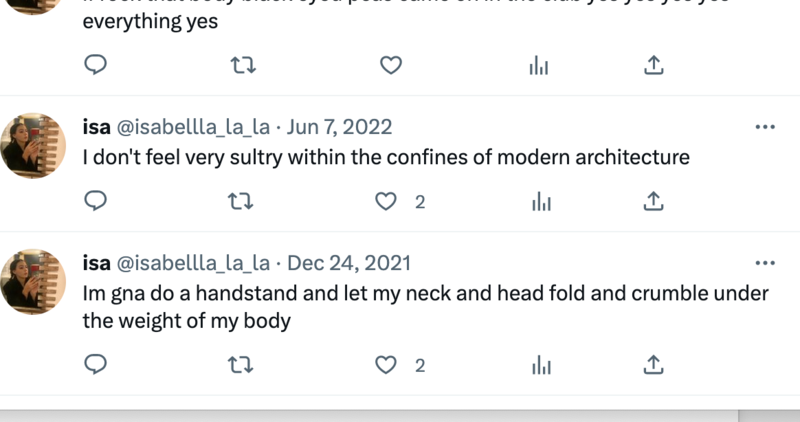 i don't know yet how to absolve this issue ?
04 mai 2022
yes to freedom yes to life yes to seduction yes to love yes to me
I think ive always wanted to be so many things all at once i still think this rings true i literally dont know anything about anything but I know nothing like im trying to think of thoughts and i just feel so entranced and not even real i cant think of anything this evening im going to go on a walk and listen to music and try to sleep because i never do im going to play dress up for hours maybe i feel grotesque i want to play and go out but i have nowhere to go but maybe i just will and maybe i have, and i want to go on a walk and never stop walking i wish i could exist without constraint, Isabella Isabella Isabella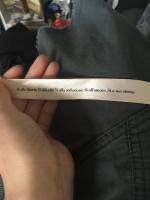 01 mai 2022
exerts from an Alexander Pope poem im obsessing over currently,
In these deep solitudes and awful cells,
Where heav'nly-pensive contemplation dwells,
And ever-musing melancholy reigns;
What means this tumult in a vestal's veins?
Why rove my thoughts beyond this last retreat?
Why feels my heart its long-forgotten heat?
Yet, yet I love!—From Abelard it came,
And Eloisa yet must kiss the name.
Already written—wash it out, my tears!
In vain lost Eloisa weeps and prays,
Her heart still dictates, and her hand obeys.
Shrines! where their vigils pale-ey'd virgins keep,
And pitying saints, whose statues learn to weep!
Though cold like you, unmov'd, and silent grown,
I have not yet forgot myself to stone.
Soon as thy letters trembling I unclose,
That well-known name awakens all my woes.
Oh name for ever sad! for ever dear!
Still breath'd in sighs, still usher'd with a tear.
I tremble too, where'er my own I find,
Some dire misfortune follows close behind.
Line after line my gushing eyes o'erflow,
Led through a sad variety of woe:
Now warm in love, now with'ring in thy bloom,
Lost in a convent's solitary gloom!
There stern religion quench'd th' unwilling flame,
There died the best of passions, love and fame.
No happier task these faded eyes pursue;
To read and weep is all they now can do.
The virgin's wish without her fears impart,
Excuse the blush, and pour out all the heart,
Speed the soft intercourse from soul to soul,
Thou know'st how guiltless first I met thy flame,
When Love approach'd me under Friendship's name;
My fancy form'd thee of angelic kind,
Some emanation of th' all-beauteous Mind.
Those smiling eyes, attemp'ring ev'ry day,
Shone sweetly lambent with celestial day.
Guiltless I gaz'd; heav'n listen'd while you sung;
And truths divine came mended from that tongue.
From lips like those what precept fail'd to move?
Too soon they taught me 'twas no sin to love.
Back through the paths of pleasing sense I ran,
Nor wish'd an Angel whom I lov'd a Man.
Dim and remote the joys of saints I see;
Nor envy them, that heav'n I lose for thee.
And bids them make mistaken mortals groan,
Who seek in love for aught but love alone.
No, make me mistress to the man I love;
If there be yet another name more free,
More fond than mistress, make me that to thee!
Oh happy state! when souls each other draw,
When love is liberty, and nature, law:
All then is full, possessing, and possess'd,
No craving void left aching in the breast:
Ev'n thought meets thought, ere from the lips it part,
And each warm wish springs mutual from the heart.
This sure is bliss (if bliss on earth there be)
And once the lot of Abelard and me.
As with cold lips I kiss'd the sacred veil,
The shrines all trembl'd, and the lamps grew pale:
Not on the Cross my eyes were fix'd, but you:
Not grace, or zeal, love only was my call,
And if I lose thy love, I lose my all.
Come! with thy looks, thy words, relieve my woe;
Still on that breast enamour'd let me lie,
Still drink delicious poison from thy eye,
Pant on thy lip, and to thy heart be press'd;
Give all thou canst—and let me dream the rest.
Yet here for ever, ever must I stay;
Sad proof how well a lover can obey!
Death, only death, can break the lasting chain;
And here, ev'n then, shall my cold dust remain,
Here all its frailties, all its flames resign,
And wait till 'tis no sin to mix with thine.
I ought to grieve, but cannot what I ought;
I mourn the lover, not lament the fault;
Of all affliction taught a lover yet,
'Tis sure the hardest science to forget!
How shall I lose the sin, yet keep the sense,
And love th' offender, yet detest th' offence?
29 avril 2022
has me on my hands and knees i forage for her i write i paint i draw i cry i yearn i cry some more i make books i would go to the end of the earth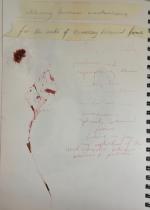 27 avril 2022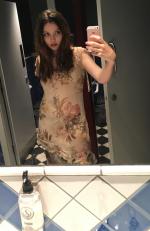 36 questions rules my life 36 questions is so good i want to tell everyone everything i love about them and i want to know everything about everyone i care about , i love writing in my notebooks and every day i write to people but i actually cant give some people my letters but still but also like actually if i die i dont want to think that people dont know of my love when i did 36 questions today someone said that they like that im caring and how i take care of people and i wish i could take care of everyone for some reason i just feel like the dire urge to express so much right now
im actually going to cry right now in the common room maybe probably because im actually sad because being in love is so painful and isolating and lonely and love does not feel so lovely and expressive when its not reciprocated i wonder waht i should have for tea i definitely want a cup of tea(herbal) and im going to go for a two hour walk and learn my french on the walk no cos i literally love the word mottled so much anywyas i am also going to do drawings for my books which i make and write to people and also probably cry and also do french and listen to music , at this exact moment i am listening to 2 Arabesques (arr. A. Miolin):Arabesque No.1 by Anders Miolin, Claude Debussy
I have been writing and walking and thinking a lot and ive been thinking about how i want to grow as a person and i think that i need to stop being so angry naturally when im hurt and in pain i grow resentful of people etc but i often end up acting below my own moral standards and then i regret it and so ive decided to channel my emotion more so into walking and writing and working because people can still be held accountable without me getting angry and i hold onto my pain for so long and i need to let go and be more forgiving i think it would greatly benefit me and i should allow myself to grow away from the pain ive felt
other peoples actions reflect so much more on them than they do on me and i have control over the way i behave and i seek so much solace in knowing that i was kind and gracious to someone even when they have hurt me and i always take it to heart when someone speaks about me on a moral basis or in terms of my kindness
i was bitter, bitter because why do i owe someone kindness who isnt being respectful to me but thats the problem its not about owing anyone else anything other than maybe myself maybe also then i would be less eager to punish myself as a result of the way other people treat me actually maybe it makes it harder because then i think theyre treating me poorly because they dont think i myself am worth better not because they dislike my actions i dont know but either way i dont want to be angry anymore so im not and yeah
also i do care and i am kind and i want to take care of everyone and be a good friend so yeah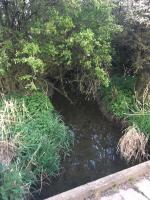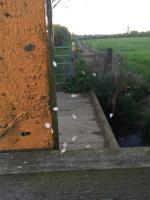 12 avril 2022
https://open.spotify.com/track/5ghiyS7WEp7kljYddZ7zTk?si=9c05cf4f5cd0476e
https://open.spotify.com/track/0ZYdUkAQmKHsaKRmq8tWSE?si=fca21b9cfd184946
si fastidieux pour devenir si fixé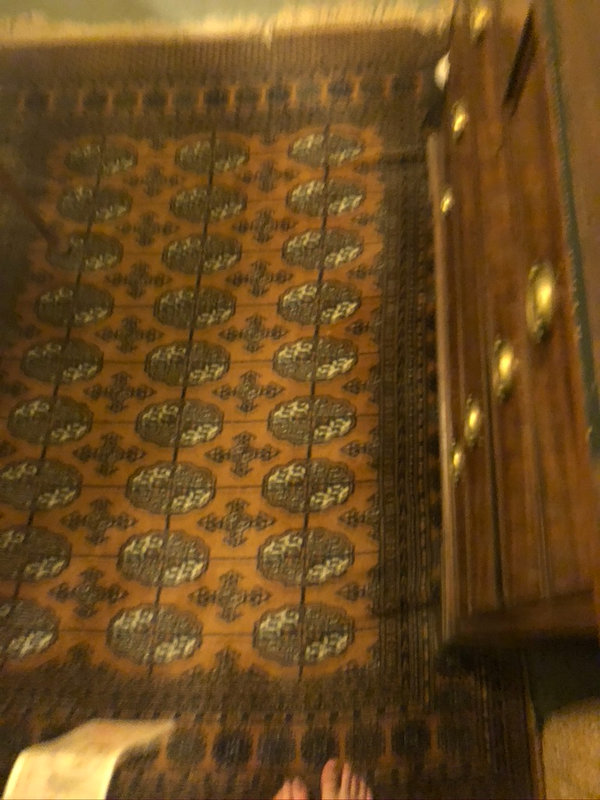 09 mars 2022
passionate about; le dessin, francais, vêtements, fiona apple, birre, boots, coats, sudoku, nourriture, headphones, musique, walks , nature , rabbits, shoes, bags, letters, words, knitwear, lipstick, italy, dark wood furniture, ballet, red nail polish, poems, peppermint chewing gum, cola, and alien
souvent les autres décrivent mon visage comme une alien
Vos films préférées
- sense and sensibility
- black swan
- notting hill
................ plus pour arriver